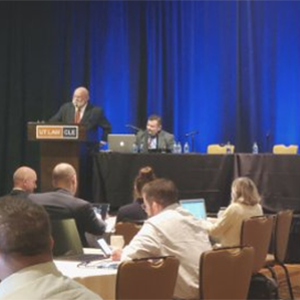 eCourse
First Friday Ethics (December 2022)
Contains material from Oct 2021 to Jan 2023
First Friday Ethics (December 2022)
3.93 out of 5 stars
What was the overall quality of the course (presentation, materials, and technical delivery)?
Rate the overall teaching effectiveness and presentation skills of faculty for the course.
How would you rate the value of the materials provided as part of the course?
---
I did not get much from the boundaries presentation.
Loved the section of setting boundaries - wish we would hear more attorneys talk about doing so.
The last segment was the best.
Both presentations were well done and informative. The presentation on implicit bias is thought provoking for attorneys. Christian Castle's presentation is an excellent primer on attorney engagements, problems that can arise if not handle early in the representation, etc. His handout materials are excellent as well.
Technical Questions?
512.475.6700
service@utcle.org
Need ethics credit? We've got you covered! UT Law CLE's First Friday Ethics streams live every first Friday of the month, and features some of our best ethics speakers and presentations for a total of 3.00 hrs ethics credit. Fulfill your entire annual ethics requirement in Texas in one day!
This month includes:
(1.00 hr | 1.00 hr ethics)
A Legal Ethics Holiday Season Wish List
It's the Holiday Season, y'all, and even law firm General Counsels and Risk Managers have Holiday Wish Lists…of what they hope their colleagues already know about the Rules of Professional Conduct and how to apply them. This presentation explores many things that are, no doubt, on those Wish Lists, including a working understanding of the conflict of interest rules, tools to help navigate those rules (like engagement letters and "I'm Not Your Lawyer" letters), the difference between the attorney-client privilege and the lawyer's ethical duty of confidentiality, and a proper appreciation of the application of the "No Contact" Rule. The presentation also provides some practical tips to help create a culture of sound risk management practices to help keep the attendee from getting on the General Counsel's or Risk Manager's Naughty List.
A.J. Singleton, Stoll Keenon Ogden PLLC - Lexington, KY

(1.00 hr | 1.00 hr ethics)
Setting Boundaries with Clients and Colleagues (Replay)
Using mindset mastery practices to improve attorney wellness by setting boundaries in your work.
Kiele Linroth Pace, Pacefirm Consulting, LLC, Austin, TX

(1.00 hr | 1.00 hr ethics)
Ethics Issues for Transactional Practice
Non-engagement, disengagement and third party payment of legal fees are ethical issues that often arise in transactional practice. The session considers these and other ethics issues in the context of representing music clients.
Christian Castle, Christian Castle, Austin, TX
(0.50 hr | 0.50 hr ethics)
What You Gotta Know to Combat Implicit Bias
This presentation explores the threat implicit bias poses to the concept of equal justice under the law and the moral imperative for members of the legal profession to address it in our law firms, court hearings, and jury trials. It also covers how an implicit bias jury instruction can serve as a de-biasing tool.
Hon. Tonya Parker, 116th District Court, Dallas, TX
Includes: Video Audio Paper Slides
Total Credit Hours:
3.25 | 3.25 ethics
TX, CA
TX MCLE credit expires: 12/31/2024
---
Preview mode. You must be signed in, have purchased this eCourse, and the eCourse must be active to have full access.