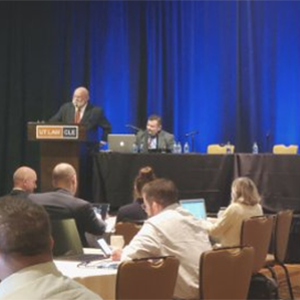 eCourse
First Friday Ethics (January 2023)
Contains material from Feb 2023
First Friday Ethics (January 2023)
4.4 out of 5 stars
What was the overall quality of the course (presentation, materials, and technical delivery)?
Rate the overall teaching effectiveness and presentation skills of faculty for the course.
How would you rate the value of the materials provided as part of the course?
---
Outstanding
Technical Questions?
512.475.6700
service@utcle.org
Need ethics credit? We've got you covered! UT Law CLE's First Friday Ethics streams live every first Friday of the month, and features some of our best ethics speakers and presentations for a total of 3.00 hrs ethics credit. Fulfill your entire annual ethics requirement in Texas in one day!
This month includes:
(1.00 hr | 1.00 hr ethics)
Sign Right Here
A survey of provisions for your attorney client agreements from "must haves" to "optional"clauses.
Claude E. Ducloux, Attorney at Law - Austin, TX

(1.00 hr | 1.00 hr ethics)
You've Received a Grievance or Sanctions Motion – What Now? (REPLAY)
Receiving a grievance or a sanctions motion can be very upsetting for lawyers, but it doesn't have to be. Please join Scott Rothenberg for an informative, reassuring, step-by-step process on what to do when a grievance or sanctions motion comes knocking at your office door.
Scott Rothenberg, Law Office of Scott Rothenberg - Bellaire, TX

(0.50 hr | 0.50 hr ethics)
Mental Health in Light of Difficult Clients and Difficult Practices (REPLAY)
How to develop Post traumatic Growth and be psychologically and emotionally strong when working in the ongoing stress of working with trauma survivors. Review self-care and maintaining balance both professionally and personally.
Bernadette Hassan Solórzano, Our Lady of the Lake University Community Counseling Service - San Antonio, TX

(0.50 hr | 0.50 hr ethics)TBD
Redaction "Fails" (REPLAY)
This presentation explains how to properly shield confidential information in public filings.
Matthew Murrell, The University of Texas at Austin School of Law - Austin, TX
Includes: Video Paper Slides
Total Credit Hours:
3.00 | 3.00 ethics
TX, CA
TX MCLE credit expires: 1/31/2024
---
Preview mode. You must be signed in, have purchased this eCourse, and the eCourse must be active to have full access.