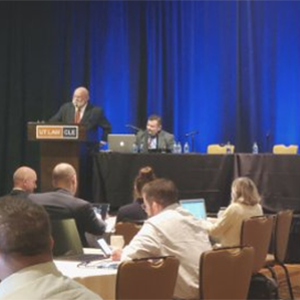 eCourse
Answer Bar: LLCs and Partnerships Formation
Contains material from Jul 2017 to Aug 2022
Answer Bar: LLCs and Partnerships Formation
4.25 out of 5 stars
What was the overall quality of the course (presentation, materials, and technical delivery)?
Rate the overall teaching effectiveness and presentation skills of faculty for the course.
How would you rate the value of the materials provided as part of the course?
---
Well done overall. A few of the sections are getting dated (e.g., the 2017 piece).
Technical Questions?
512.475.6700
service@utcle.org
Session 1:
2022 Case Law Update
- A survey of recent Texas cases addressing significant issues (fiduciary duties, piercing the entity veil, and more) in the context of LLCs and partnerships (including limited partnerships and LLPs).
Session 2:
A Series of Changes: Recent Developments in Texas Series LLCs
- A practice-focused review of changes to Texas Series LLC law effective June 1, 2022 and what the new "registered series" might bring to the table for practitioners followed by a discussion of common tax issues associated with series and suggested best practices.
Session 3:
2022 Secretary of State Update
- Learn about filing tips and resources that will make your transactions with the Secretary of State easier and more predictable; hear updates on notable legislation and our system modernization initiative.
Session 4:
S corporations: A Cautionary Tale about Squaring the Circle
- A discussion of some of the motivations driving the use of LLCs as S corporations, some of the potential issues and some of the drafting and structuring issues that should be considered if an LLC is taxed as an S corporation.
Session 5:
Letters of Intent and Side Letters (Enterprise Products)
- On January 31, 2020, the Texas Supreme Court issued its opinion in Energy Transfer Partners, L.P. v. Enterprise Products, L.P., an important case about when a business relationship is deemed to be a partnership under Texas law. Learn about this case and what it means for structuring and drafting agreements for business relationships.
Session 6:
Updated Model LLC Agreements
- Review three model agreements tailored for a closely held company, including a discussion of some recent changes in the models as well as decisions that the authors made in drafting the models to help improve your drafting skills and result in better operating agreements.
Session 7:
Provisions Limiting Liability and Duties in Partnership and Company Agreements
- This panel will discuss the effectiveness and limitations on provisions of partnership and company agreements which provide for the modification of duties, exoneration from liability and indemnification with respect to claims against managers, members and other employees and agents.
Session 8:
Inadvertent Partnerships Revisited
- Hear an update on inadvertent partnerships after the Dallas Court of Appeals decision in Enterprise Products Partners, L.P. v. Energy Transfer Partners, L.P.
Session 9:
"Good Bye"—Buy-Outs or Exits
- All good (and not so good) things must come to an end. When owners of an LLC or partnership are ready to part ways, what does one want in the Company Agreement/Partnership Agreement in order to facilitate an orderly exit by the departing owners?
Session 10:
Effective Engagement Letters and Other Simple Risk-Management Tools
- This ethics CLE presentation will look at engagement letters and how they can be used as a risk management tool. Along they way, the presentation will provide practical tips to help lawyers avoid conflict of interest pitfalls and to assist in controlling client expectations about the scope of the representation.
Session 11:
Multiparty Representation —Entity Formation
- A deep-dive into the knurly problems of multi-party representation of start-up companies, including whether the client is the founder or founders or the company is yet to be formed. The ethical difficulties for the lawyer continue after formation as the company and its founders, directors and officers move beyond formation of the entity into the realm of operations.
Includes: Video Audio Paper Slides
Total Credit Hours:
9.25 | 2.00 ethics
TX, CA
TX MCLE credit expires: 2/29/2024
---
Preview mode. You must be signed in, have purchased this eCourse, and the eCourse must be active to have full access.